The Next Transformation course starts Saturday 30th April

For 8 Weeks you will have unlimited access to all classes and full use of the gym at anytime! You will also  work closely with your dedicated Personal trainer, who will be available to support you 24/7 with any questions you have.
Each Week you will have the option to be weighed and monitored by your personal trainer to make sure you are staying on track. You will come along every Saturday morning for your exclusive transformation session and train with your team. You will learn how to exercise effectively and burn off those calories, tone up and get fit!
At the beginning, middle and end of the course you will have body measurements taken (completely optional). You can expect to loose between 1 – 5 inches off of your body every 4 weeks!
During the course you will be given lots of helpful, educational tips on your diet and nutrition. You will gain all the knowledge and tools you need to create better lifelong habits. You will be advised on what calorie amount to stick to depending on your body size, with meal suggestions to achieve this.
Its a great course! You will be part of a team and be supported through-out the 8 weeks. If you are a beginner looking to start the gym, or looking to lose weight or improve your mental health through fitness this is the course for you!
---
Be like Jess
'I have to admit this is up there with one of my biggest achievements. Thank you so much Body Focus! I have never felt physically or mentally better and enjoy working out so much! I have lost 3.5 stone and 34.5 inches around my body. Bring on the next course!'
---
Be like Neil
'It just shows a bit of hard work and dedication does work! I lost over 2 stone and 19.5 inches on the transformation course! Thanks to Patsy & Phil for all your help on the course!'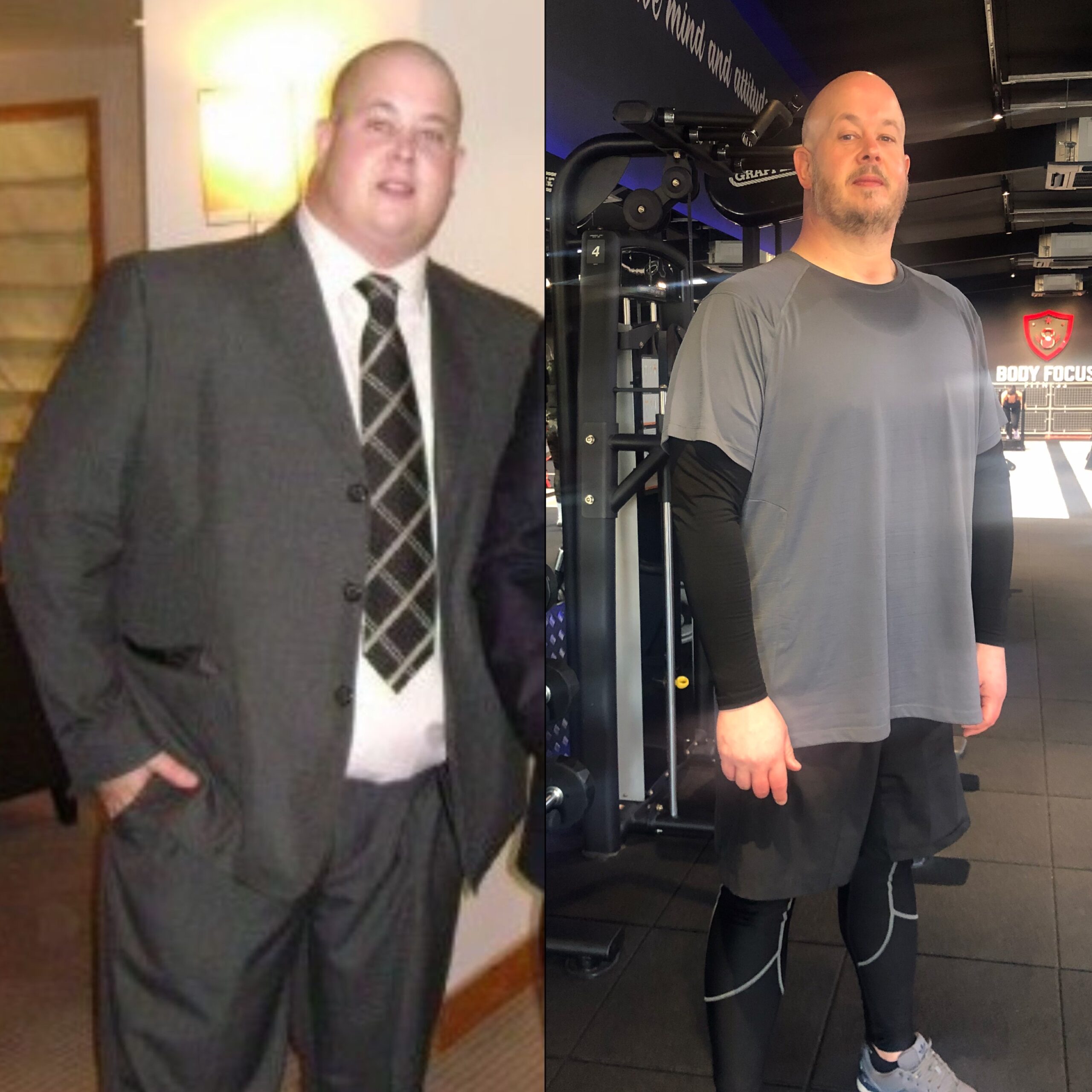 ---
What's included on the course?
You have unlimited Classes – You can attend as many classes as you like. We advise you to attend at least 3 classes per week. We have early morning classes. Daytime classes and evening classes. Classes to suit everyone!
You have unlimited Gym access – Use of the gym everyday from 6am – 8.30pm Monday to Friday, Saturday 6am – 4pm. If you cant make a class you can use the gym as many times as you like!
Exclusive Transformation sessions held every Saturday Morning at 8am or 9.30pm. This is only available to transformation members. These sessions will be a different style of training every week to educate you to different ways of exercising
Weekly weigh ins – Every Saturday morning before the transformation you have the option to weigh and record it. It will be held in your own folder. Weighing is optional. You may like to be accountable every week to help you stay on track!
Body measurements are taken at the beginning, middle and end of the course. This is a great indicator to see how many inches you have lost around your body.
Fitness testing is completed at the beginning and end of the course. We will measure your cardiovascular fitness, endurance and strength.
Nutritional advice – We can tell you what to eat, how many calories to eat to get the best results possible for you.
You will get Personal trainer support through-out the course. We will be on hand to help you every step of the way. 24/7
Whatsapp group – the whole group is teamed together to swap idea and support each other through out the course. This is great for keeping you motivated and the morale high!
Last few places remaining!
This whole package is worth £250, but we are giving it away for £150!!
Only £20 to secure your place today! Full payment needed before the start
(30th April)
If you have any other questions or would like to reserve your space today; speak to us now via our live chat, submit the form below or contact Patsy!
Patsy@body-focus.net or 07719765846 (text or phone)