Body Focus is fully equipped with the very latest equipment to meet your needs.
Our main studio on the upper level is where we hold most of our classes. It has a large open space for group sessions as well as machines around the edges for training.
Around the edge of the main studio are lots of cardiovascular equipment and resistance machines.
Treadmills, Cross trainers, Stepper machine. Recumbent bike, Upright bike, Rowing machines, air assault bikes and ski machines.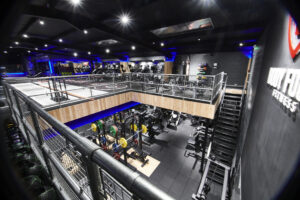 There are also 4 full sized punch bags, benches, 3 racks of free weights, weighted barbells and bars , kettlebells, weighted balls, a sit-up bench, battle ropes step up boxes, jump boxes and 2 prowlers.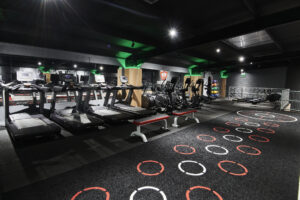 There are also lots of resistance machines –  Leg extension, Leg Curl, Leg press, assisted pull up machine, Chest press, shoulder press, as well as a 4 point cable station with various attachments, double cable machine and grappler.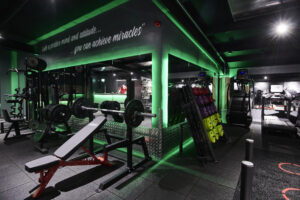 The Weights Pit!
There are 2 levels to the gym. On the lower level is the weights pit. In the pit we have our bigger weights machines. Pulse machines targeting different areas in the body. Lat pulldown, Hack squat, Shoulder press and chest press. There are also 2 large squats racks with platforms, barbells and Olympic plates. There is also a smith machine, preacher curls, heavier dumbbells, benches with a mirrored area, more weighted barbells and a landmine plate and barbell with various attachments.