A popular class for both men and women of all ages. This session offers a complete aerobic workout, mixing boxing techniques and moves in a circuit training environment.
Working mainly on conditioning the upper body and using some kickboxing techniques on the lower, this highly motivating class is great for toning, stamina, balance, co-ordination & overall fitness.
With Bags & pads with fast paced popular music in use, this non-contact class allows you to punch as hard or as fast as you want to, which is great for stress relief and benefits your mind as well as your body.
Our boxing classes are held Thursdays at 6.30pm with Patsy, which are suitable for Men and women of all fitness levels.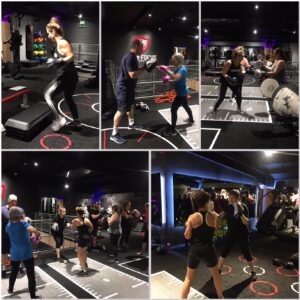 We also run a ladies only punch kick and stretch which is one of our most popular classes held on Saturday mornings at 10.30am with Phil.